New Art
This page will highlight the latest addition to the Website. This will make it easy to check back on occasion to view the latest art. I usually wait until I have completed at least three new paintings before updating the site. Follow the thumbnails below to see the latest:
Note: These are shown in order with the first one being the most recently finished painting.

Woodburn House

Last of Summer

Morning Sun
Floating Ice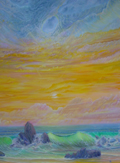 Cloud Nexus
Once the website is updated with future "new art" these paintings will remain on the thumbnail page. Please let me know what you think of the current direction of my work by sending me a quick email.