About the Artist
Introduction
I was first introduced to art from my father through music and began playing piano at a young age. After many lessons and much practice by the age of 18 I had memorized some significant works of classical music including Beethoven and Chopin.
At around the age of 12 I was given the opportunity to take oil painting lessons from a wonderful local artist named Elsa M Schaller. This went very well for me and I have been painting since. The basic groundwork being laid down I have always followed a certain discipline regarding my artwork and while painting I often think back to the rules learned during those days. Whenever thinking about composition or color mixing the old lessons come to mind and I manage to remember the fundamentals.
At around the age of 20 I started out on my own to paint what I wanted to paint. This led me to paint fantasy landscapes that I would spend months working on. I concentrated on several large 36X48-inch paintings that took a considerable amount of time to complete. I did complete many such works and some of them are available for viewing here on this website. As time went on my interest has moved me to paint more pictures of the ocean and water. I love to paint water as it gives the painting life, color and movement.
Current Direction
Living just 20 minutes from the Ocean I have been inspired by the sea and it provides endless opportunities for subject matter. The South Pacific and exotic tropical islands have also long fascinated me. I have painted several Atolls and numerous seascape paintings. I also paint some fantasy landscapes and have recently completed two (1 , 2) new ones.
I believe that a painting should change the mood of a room and embellish the surroundings in which we live. I strive to make each painting unique and never use any "cookie cutter" methods to achieve the results that I want.
I am currently working on a series of Island and Seascape paintings. Some of these are available for your viewing on this website. I use only the finest materials and strive to produce high quality products that will endure the test of time. I have chosen oil as my desired medium. The vast range of colors and versatility of oil make it a perfect medium.
Please take some time and view the paintings found here. I am painting new paintings at this time and will be adding more work later on. I encourage you to email me and send your comments and critique. I need feedback in order to guide me into the future.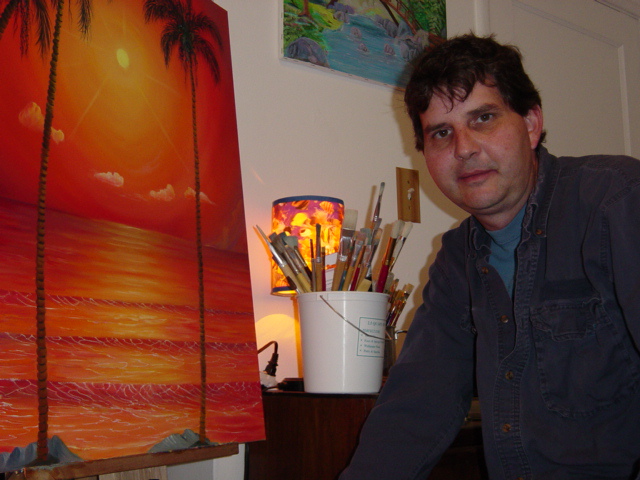 David Keeney, July 2003